Teen Summer Fun starts Monday, June 6th.
Pick up a flyer with an activity sheet in the Teen Room today or print one (bottom of the page).
Complete activities to earn doubloons and win prizes!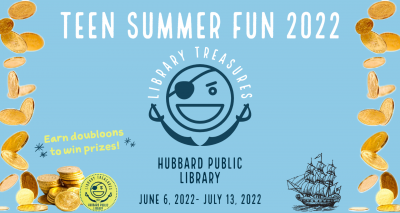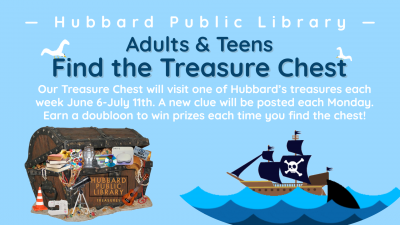 Register for the Adult & Teen Sushi Fest Finale!
Wednesday, July 13th 5:30 pm-7 pm in the Meeting Room
All Adult & Teen Summer 2022 program participants are welcome!
Registration is required and space is limited.
Click here https://forms.gle/eh9e7pPczcDrG8WC6 to register or call 330-534-3512 x-2. The Sushi Fest Finale is the celebration to cap off the Adult & Teen Summer 2022 programs. We will try different varieties of sushi and you will also have the opportunity to make your own California Roll. Other pirate-themed snacks and beverages will be available as well. All Summer Program prizes will be drawn at the event. Winners do not need to be present to win.