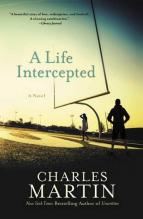 Book Selection: A Life Intercepted by Charles Martin
Football legend Matthew Rising had it all—married to his high school sweetheart and one of the winningest quarterbacks of all time, the number one pick of the NFL draft lost it all in an instant. In A Life Intercepted, New York Times bestselling novelist and former college football player Charles Martin beautifully tells the redemptive story of how one man had to lose it all to find it all.
Date: Tuesday, October 27, 2020
Time: 6 PM
Place: Meeting Room (first floor)
NOTE:
Due to health and safety mandates, we will maintain physical distancing and wear facial coverings.